Doyensys thrives on a high-performance culture, and we believe that recognizing the outstanding work of our employees is a natural extension of it. Our monthly awards celebrate the work of our team members who excel in their tasks and exemplify the behaviour of high efficiency and quality.
As we celebrated the beginning of a new financial year on April 1st, we also observed the achievements of Doyens, who have been inspirational in the way they have answered their call of duty.
Here is a list of Doyens who bagged the coveted awards this month.
Kishore Kumar R – Star Performer of the Month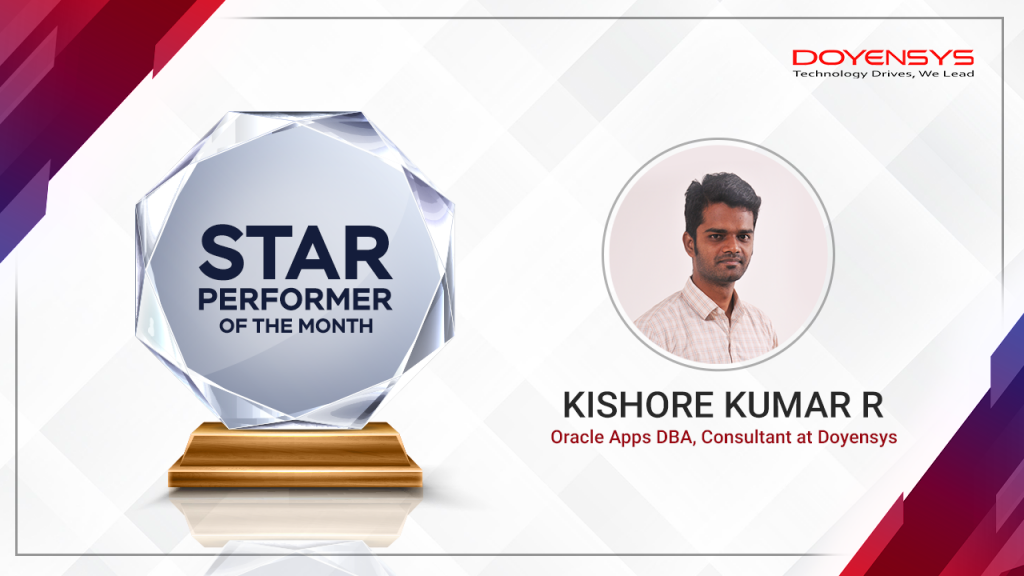 In his ongoing assignments, Kishore has exhibited exceptional control of the environment and demonstrated excellent work during a business-critical situation.
Asif Hussain – Star Performer of the Month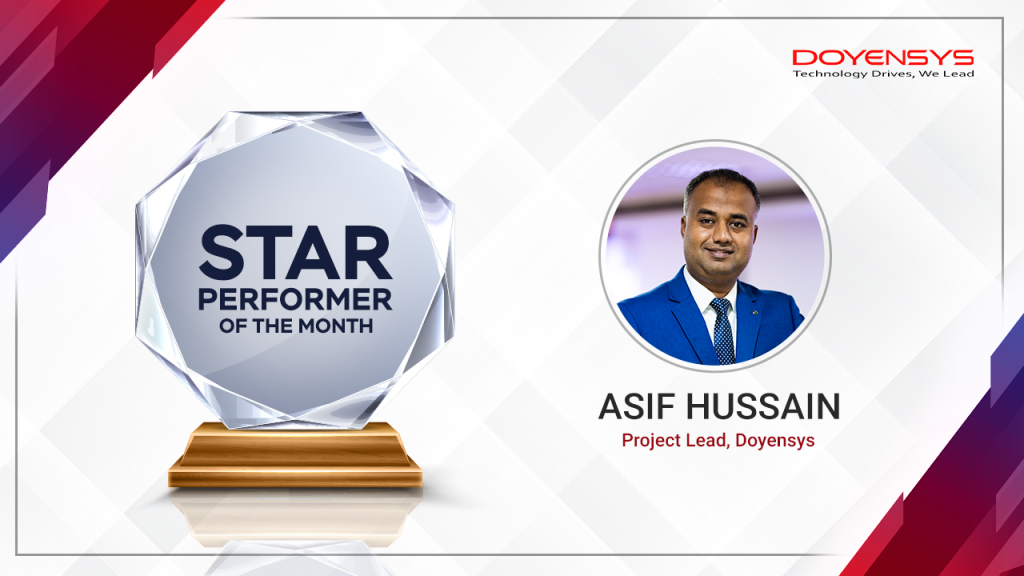 Asif has been at the frontline in his current project, which has a strict timeline and is a high-risk assignment. He has been continuously demonstrating excellent ownership and commitment in this project. There have been times when he has gone beyond expectations and has helped normalize the situations with his expertise. His dedication has also won appreciation notes from the customer.
Muhammed Jabir – Rising Star of Doyensys
Despite being a junior team member in the Custom Development Team, Muhammed Jabir has contributed to Oracle APEX R&D tasks and implemented available solutions for Dynamic Chart in Oracle APEX. He has shown exceptional skills for understanding the business processes of a client in a short span of time. After that initial phase, he was able to manage the customer calls and tickets independently. He has also exhibited exceptional team spirit by enabling knowledge-sharing sessions through his external professional circle in offline native mobile application development using ReactJS.
Palanikumar K – Hiring Enabler (Oct'20 – Feb'21)
Hiring is an ongoing process at Doyensys as we are constantly looking for more people to join us. Palanikumar has been an outstanding contributor to this process by taking 22 interviews in a span of four months.
Jayan & Velmurugan – Blogger of the Month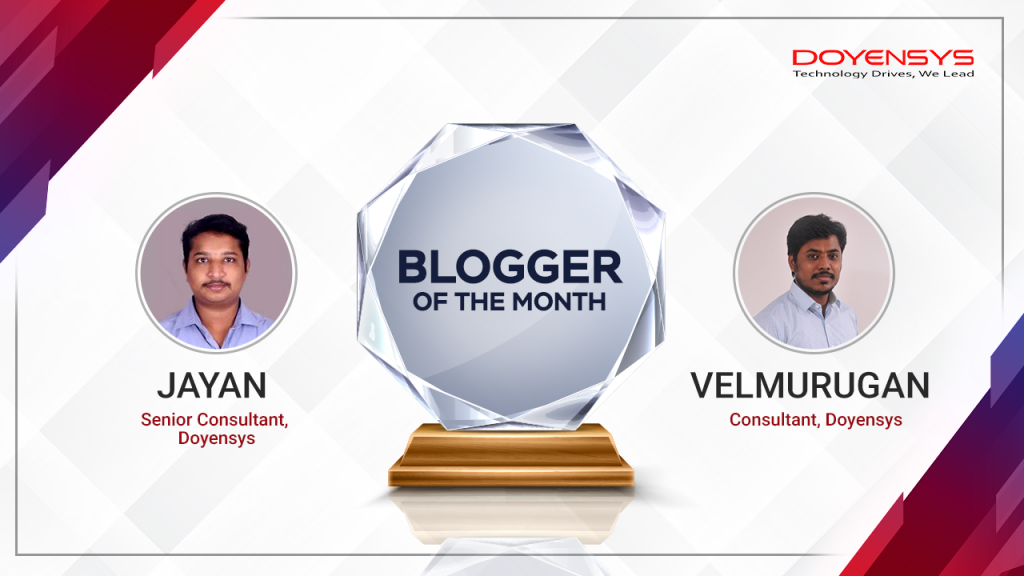 Blogs are integral to the knowledge-sharing efforts at Doyensys. By writing 28 blogs each in Q3 last year, Jayan & Velmuran have helped us extend his cause.
Under Behaviour Awards Category
Sathya Jegan – Stellar Doyen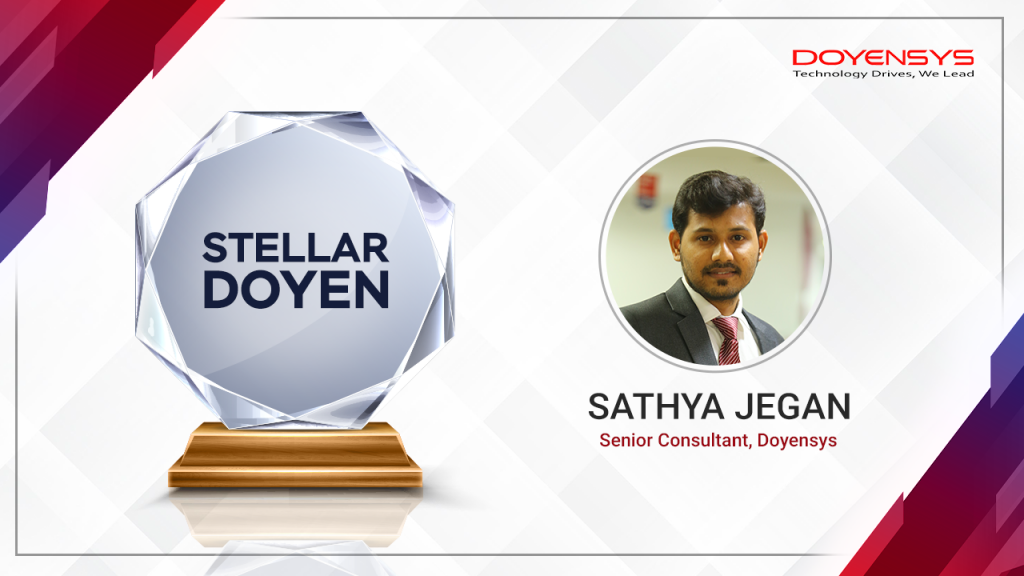 Sathya has been an asset to the company with his regular engagements for the R&D tasks in Oracle APEX. His contributions are beyond his regular work, and he has actively participated in finding innovative and workable solutions to challenging problems. For instance, he has delivered several innovative solutions using Oracle APEX like Multi-Language, Digital Signature, Dynamic Charts, Dynamic Faceted Search, ChatBot, Voice control Application, etc. His latest success was when he explored the options available in JAVA/PLSQL for encrypting and decrypting data using the SEK algorithm and developed a unique solution for implementing e-invoicing regulatory requirements from the government of India. The same has already been implemented at three customer places successfully.
Sathish Srinivasan – Rising Star of Doyensys
Sathish joined Doyensys as a fresher with no prior experience but has exhibited high productivity immediately after his training. Although his working experience in .Net was minimal, he was able to support us in doing a POC for a customer to migrate from SQL Server to Oracle Database with .Net as the front-end technology. During this process, he has exhibited his skills in understanding the requirement, R&D capabilities, interest in learning, etc.
We heartily congratulate all the winners and look forward to the next awards ceremony.