The Oracle E-Business Suite (EBS) offers advanced business functionalities to various enterprises. With Oracle Cloud Infrastructure, you can reap enormous benefits such as faster execution, efficient performance, and cost-effective features.
It offers seamless workflow by protecting the enterprise data and restricting hacker's interference. It also manages your overall workload to accomplish the customer demands and is one of the most beneficial ways to get your job done.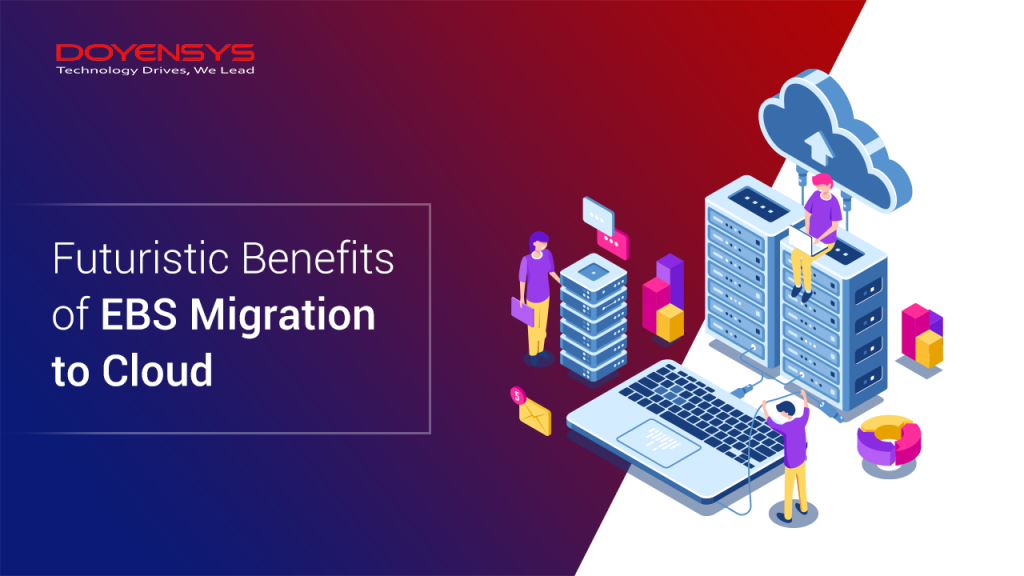 An overview of EBS
EBS or E-Business Suite is a set of tailor-made business tools to make the functionality, management, and analytics of highly optimized, fast, and efficient data. A platform that can help your organization to attain security and create a protective environment.
So, what is the need to transfer EBS into the Oracle Cloud? The migration enables fast and quick updates to match the pace of constantly evolving business. It also upgrades its functionality to meet the current demands.
Wouldn't it be nice if your ideas got transformed into apps? How beneficial would that be for your business enterprise? Well, EBS is the right platform that does this magic for you.
How can it transform your enterprise?
More often than not, you have to go the extra mile to have reliable and trustworthy app development. You would need to hire and learn complex website technologies from scratch.
It gives you a stable infrastructure, integrated enhancements, and upgrades that are much needed for handling a complex cloud environment.
The migration of EBS to Oracle cloud is also called Lift and Shift. It provides a faster and secure platform for their customers to choose the desired EBS cloud and allow the certified databases to run on Oracle.
Why should you incorporate EBS Migration?
Here are some benefits of EBS Migration that will revolutionize your complete workflow:
Ability to handle complications and make the next-gen platform
The Cloud supports applications that are complex and cannot be handled by general platforms. They provide the agility to take on huge files and databases. Additionally, it takes care of large financial aspects.
New technologies that are not supported by 1st generation cloud platforms cannot compete with the Oracle cloud due to its outdated features and the intervention of advanced technologies like AI, Blockchain, IPA, Modern Human Interfaces, and high-end UI.
Performance
The Cloud serves as an excellent platform with its great control and quick responses. It can clone EBS systems instantly by offering you extreme proficiency and resilience during the access. It also optimizes your UI with constant upgrades by keeping it unique.
It can handle multiple tasks at once with its ability to predict and manipulate. It provides quick computing systems over critical applications. Moreover, it gives you ease in storage and network.
The overall efficiency and focus on the finite technicalities are increased considerably to enhance the resources. The platform bears a load of work that includes ad-hoc testing and analysis of your latest app versions.
Cost
Oracle Cloud comes up with amazing features and It has saved the expenses of many businesses by proving its worth and reduces 65% from the overall cost expenditure.
It can work with huge databases and run huge workloads that would normally cost a fortune. With the EBS migration to the Oracle Cloud, you can save your operational costs and minimize the investments in hardware and maintenance.
Security
Security is what every business is often concerned about when their business data get into a mishap. Hackers can steal your information and can create havoc on your details.
However, with EBS, your personal and business accounts are safely protected. OCI addresses some of the organizational issues and efficiently handles various financial systems, workloads and data-intensive applications. Many authentication schemes are integrated with cloud-based service providers.
You can easily control the overall access and workflow of your business. It offers you the benefit of creating unique authentication in SQL with the desired customization to restrict unauthorized access into your systems.
Additionally, Oracles Cloud Infrastructure also works on network resources to ensure the protection of data and traffic. Thus, giving you complete security to your database by making it safe and reliable.
Accessibility & Availability
Optimal Storage Capacity and Easy Access are the main takeaways while upgrading to Oracle EBS. It utilizes the hectic task of rendering maximum capacity servers, speedy network access and quick recovery by enhancing the performance at its best.
Moreover, increased agility adds strength that results in faster execution and higher accessibility. Every organization is keen to incorporate EBS features into their business with its easy availability that helps streamline their company's performance to its highest level.
Prime Features
There is a reason why EBS migration to Oracle Cloud has been doing so well for itself. Most developers prefer it because of the wide range of features. You have a choice to decide the migration of data to Oracle Cloud. They are three-fold:
You could move all the data and workload to IaaS – It enables you to manage and gain more control over the environment.
Reduce management operation costs – This avoids the additional expense on migration, integration, and upgradation, thereby allowing you to invest in modernizing your IT infrastructure.
End-to-end control – This is a hybrid cloud, which enables you to access entire data from a single dashboard. It eliminates the need for third-party cloud platforms for your respective workloads and demands.
Final Words
Privacy is the most important factor in any enterprise. You need a tool for creating and enhancing your application & Oracle cloud gives you the opportunity of custom authentication that enables secured control over the applications.
With easier access, you can monitor, manage, analyze, and interpret whenever you want. For implementing this amazing feature, you need an expert team of service providers.
Doyensys will be the right choice to get started with the migration of EBS to Oracle cloud by making your migration experience smooth and hassle-free.