For any organization, Item Master is the core set of data that is used for most of the daily processes in an ERP system. Items are used to represent products and services you sell or transact, resources you maintain, and components that make up your products and services. Each item that you create has several standard operational attributes that determine the behaviour of the item with respect to various functions, such as Purchasing, and Inventory Management.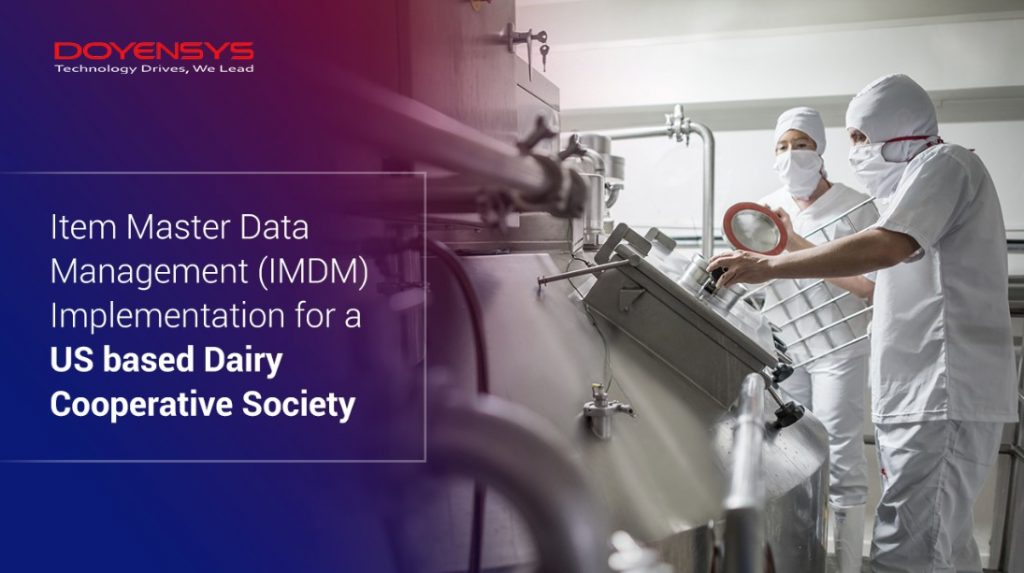 The after-effects of incorrectly entered item data often resemble a line of dominoes, one falling sequentially after the other.
Our Client is a US-based farmer-owned milk processing and marketing cooperative. They are the nation's seventh-largest dairy cooperative. They are a leading manufacturer and marketer of Italian- and American-style cheeses, speciality whey ingredients, pharmaceutical lactose, butter and bulk fluid milk to customers around the world.
Before IMDM was implemented, the organization did not have any standard process around item creation.
Lack of ownership & accountability for the item data entry. Incorrect Item Master Data Entry also led to transactional difficulties and had a significant downstream impact on supply chain operations. No workflow was available for the item creation too.
Item Master Data Management (IMDM), a product of Doyensys helped the organization to have a
Secured role-based data handling
Established accountability, ownership and data stewardship
Configurable Workflow Notifications and Approvals.
Seamless creation and maintenance of items with inputs from different departments.
Process definition for item creation and maintenance at the corporate level
Main highlights of IMDM
Configurable approval workflow and notifications
Data security based on User Roles
Item Synchronization between IMDM and Oracle EBS
Generates Unique Item Code
Allows item creation and update both at the Master and Organization Level
Allows transfer of multiple items simultaneously
Provision to configure, capture and integrate DFF values and Item Categories.
Multiple drill-down reports
Option to handle attachments
IMDM has been designed after a thorough process of collecting the requirements from manufacturing companies. Its components make for a comprehensive solution to provide efficient and reliable Item Master Data Management.