No matter how advanced a business gets, the integrated technology that supports it keeps on changing. But the thing that remains constant is the need to keep confidential information safe. As the pandemic struck our lives, many companies and organizations felt it difficult to cope with the demands and started adopting cloud services to maintain their critical data. So, it became a high priority for companies to ensure cloud security and stay competitive in the global market.
In the previous year, it was pretty challenging for the entrepreneurs to keep up with infrastructure modernization. Also, staying within the given budget and still maintaining the IT company's security turned to be an uphill task. Oracle Cloud Infrastructure (OCI) is deemed as the best option for retaining cybersecurity, reducing complexity, and enabling a new level of robust automation.
We help in the process of building trust and protect the critical data of the company. However, to remain ahead in the competition, we have detailed you with the latest trends set to gain importance in 2021. We have also laid down few strategies to achieve the desired results.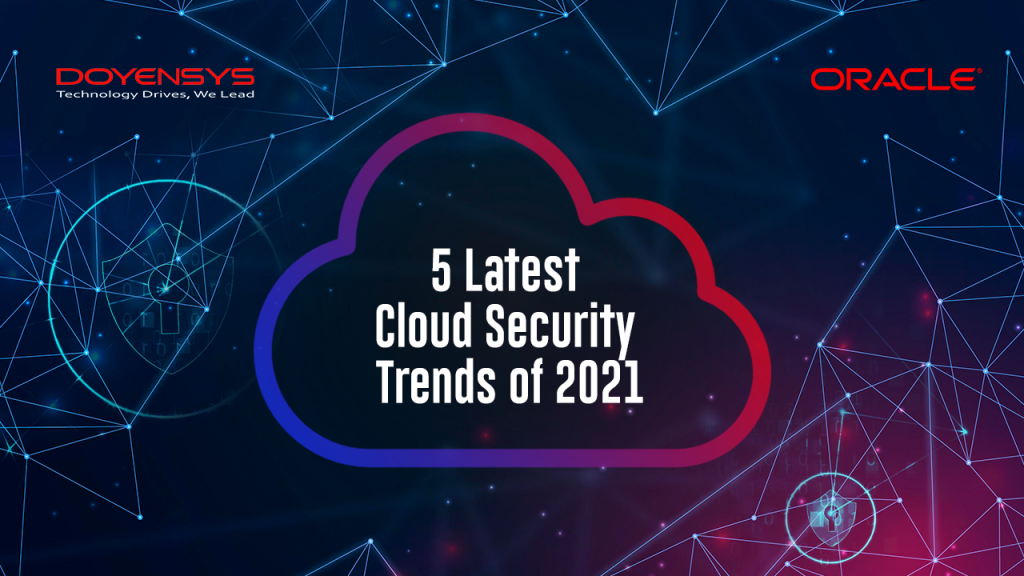 #1 – Opting for Zero-trust Approach during Remote Work
The first trend seen after the emergence of the pandemic is the adoption of cloud services. But with this new trend of acquisition, there is also an increase in the threat of cybercrime. Thus, to increase cybersecurity and prevent hackers from exploiting confidential data, a zero-trust approach has been introduced.
In this approach, with all-access, multiple data are validated. It includes the user identity, location, and device. As many as 87% of organizations have approved to follow the zero-trust approach post-COVID.
Let's discuss how does Oracle Cloud Infrastructure benefit you in this process:
Using built-in tenant isolation and structuring the privileged access, the risk of constant threat has been significantly reduced
Through isolated network virtualization, you can avoid the lateral risk movement
You can decide who can access the cloud resources through built-in identity and access management
The company can assure security with the option of user authentication and SSO irrespective of the location or device
#2 – Higher Investment on Advanced Security
In addition to cloud services, companies and entrepreneurs are also investing in AI and ML technologies. They see them as a great way to detect and prevent cyber-attacks.
However, cloud services are pushing AI and ML to detect malware and modifies them to locate other vulnerable threats. The automated security system helps the global leaders to minimize the time and resources needed for a company to manage its data.
Thus, by relying on ML and AI, the cybersecurity team can have enough time to focus on innovations. As per the recent data, 32% of firms have started embracing cybersecurity along with AL & MI as their prioritized investment.
Here are the major touch points on which autonomous Oracle database and autonomous Linux system support your regular workflow:
Helps secure data by blocking unauthorized access
We offer an AI-based autonomy that protects you against downtime with automatic and rapid recovery
The cost of security administration reduces to 55%
You get zero downtime patching without scheduling or restarting downtime
#3 – The Process of Secured Automation through DevOps
With the advancement of business in 2020, more and more companies are producing new applications to meet people's demands. However, the pace of introducing a new security system does not match the rate of new application introduction.
As a result, there is a pace gap in between. To fill this gap, the secured automation of DevOps helps the stakeholders in different ways. DevSecOps is allowing organizations to gain greater efficiency and increased security.
Here, oracle is helping people through its intelligent and automated protection such as,
Automated security system
Security control involving encrypting data
Identifies and highlight configuration that poses a threat
You can get the benefit of the continuous delivery process through our service
#4 – The Increased Need for CISO
In the earlier days, companies put a lot of emphasis on the need for CISO. The chief information security officer was the changemaker of the company who looked after cloud computing, anticipating risk, and updating risk models. Thus, several companies were hiring more of them to protect their organization from cybersecurity attacks.
However, now they need for DX CISO is visible. The officers are responsible for streamlining batch processing, integrating API, process automation, etc. In this regard, oracle helps you with its cloud infrastructure by:
Delivering protection and customer isolation with cloud security
Providing full-stack protection with zero trust approach
Offering automated detection facility to minimize risk
Including security solutions by fixing errors, reducing threats, protecting attacks
#5 – Higher Visibility for better Security Management
As companies are now depending more on cloud computing for speedy work. However, it's a fact that with opportunity comes risk. Cloud-native applications offer companies new processes, tools, and personas and lack to block unauthorized services.
In the recent survey, it has been found that the cloud storage holds 1000 unauthorized services in their database. Thus, many businesses are often turning vulnerable to cybersecurity attacks. Oracle offers security monitoring, managing, and mitigation services to help IT leaders with the problem. It includes the following advantages:
Provides the benefits of complete SaaS security control
Oracle data safe facility provides a self-securing autonomous database to people
Oracle cloud guard help you get a unified view of cloud security
We also offer behavioral monitoring and secondary authentication
Conclusion
With the above trend, it is pretty clear that companies have to emphasize security as their highest priority to remain competitive in their respective fields. It can also help them to reduce various threats and the level of getting exploited. In addition, it offers a chance for technical experts to focus on innovation.
In short, if you get access to the right tool, you can minimalize the overall costs, prevent human error, and can even automate the security. Thus, it helps secure the data and provides the businesses to sustain in the market for a longer time.