We are living in a time where automation takes over the human workforce to simplify the process. Many businesses have started to adapt to this culture and are aware of the enormous benefits of having cloud computing.
Oracle Cloud Infrastructure offers unlimited storage area through a virtual network is beneficial for many people. But many people are still doubtful about moving to cloud computing through virtual networks.
On the other hand, while choosing a hybrid cloud, everyone will introspect about the uses, reliability, accessibility, and charges to pay. A hybrid cloud is like a bridge of private and public cloud services where one can perform computing operations and avail the storage.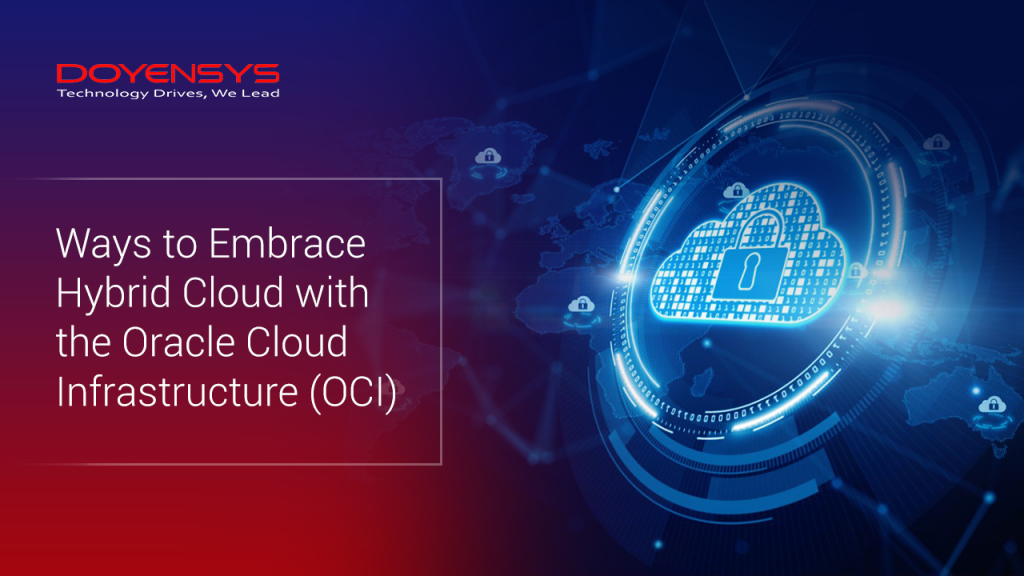 An Overview of Hybrid and Oracle Cloud
The OCI will leverage the process of automation and other security protocols with its seamless connectivity and on-demand cloud services. Multiple factors like flexibility, faster execution, reduced operational costs, efficiency, reliability, easy implementation, and much more contribute to this switch.
Many firms will tend to forget the prime impact of having the oracle cloud infrastructure and the amount of growth it brings to the business. Oracle cloud infrastructure helps in running the applications smoothly and swiftly, even in testing.
If you are an Oracle client already, then the process of shifting to OCI will save most of your time and investment across different Oracle applications and propel your business on a progressive path. This migration has also increased the overall performance of the vehicles.
Hence, it is mandatory to upgrade to the latest technologies to meet the customer needs and stay in line with the current trends. People who ignore this will tend to get stuck in the middle, and their strategies will become inefficient and worthless. To explore the true potential of adopting the hybrid cloud with OCI, we discuss the key advantages and key points to succeed in your respective businesses.
How to learn the Cloud Computing Concepts?
Networking will be a great way to enhance their skillset and boost their learning curve. Oracle user groups will go a long way in serving various business needs. Companies must ensure that their overall business objectives are in line with Oracle cloud services.
The firms need to assess, analyze and segregate as per the demands and requirements. The concepts created should be according to the current trends, changing business needs, and hybrid environments.
Benefits of having Oracle Cloud Infrastructure and Hybrid Cloud:
Affordable pricing: The profit you gained while running your company matters less than the product's cost. Sometimes people want to splurge, but mostly they are confined to affordable options. It follows the aggressive and predictable costing module.
In the case of Oracle cloud Infrastructure, you will retrieve more benefits than the money you spend. If you are a newbie, you can opt for the free services of OCI like storage, block volume, AMD compute, flexible load balancer, and much more.
Security: Security is the priority feature that every developer will focus on initially. Oracle Cloud Infrastructure has a robust design that maintains large-scale enterprises. It provides multiple layers of security in all services.
The data and applications of your firm will be of high protection. The security wall will stop the intruders, and one can focus on deploying their project without any unknown interruptions.
Capability: Oracle cloud infrastructure offers high-level performance in every stage of computing. One can easily retrieve and operate their information through any network securely and efficiently. Our OCI provides exceptional performance, and the operations are always quick with high analytical capabilities and embedded security.
Compatibility: Oracle Cloud Infrastructure is compatible with various businesses through several technologies. It is committed to supplying the required resources and services to support the business.
The Oracle cloud infrastructure maintains the standards and services helpful for cloud computing. It also supports the idea of open standard solutions like open-source technologies and communities.
Enterprise-grade: Oracle cloud infrastructure provides the ultimate answer to the queries of every enterprise. The most common ones will be the reasons to migrate to the cloud or how to process it, or when to do it.
The OCI deploys enterprise-grade services, which helps improve the firm's productivity by maintaining essential services and software.
Final Thoughts
In the era of digital technology, it is not a bad idea to create a hybrid approach to your workflow by integrating the cloud to an Oracle architecture without compromising on external factors like agility, execution, and speed.
Overall migrating to hybrid cloud technology is an added asset for your further development. If you are relocating your enterprise-grade data to OCI, this will enhance the accessibility and productivity of your firm.
There are many proven examples where developed companies have increased their productivity after moving to the hybrid cloud. On the other hand, if you are a beginner and want to maintain a small team, then you can get a package at the reach of your deployment.